The rifle is AWESOME Tom, I shot a 10 pt & a real big 8 pt. The one buck was out 252 yards, both deer looking right at me and shot between their two front legs both dropping one shot gravyard dead.

A 1 inch group at 300 yards is hard to beat!

Thank you again Tom for building the best gun out there. I have a lot of rifles & some with a lot of work in them, & hands down your gun blows them all away. It is truly amazing and I mean that. Talk to you soon.Thank You & have a Great Holiday Tom.

A great message from Graig Sheaffer!

Above is a picture of his rifle.

From December 2013




Dear Tom,

No. 27 put venison in the freezer on opening day yesterday. It was an easy shot, so there was nothing special about it. The gun is a super-reliable deer killer. Usually, like yesterday, there is no tracking involved. The deer just flipped over on his back. Thanks for building a super gun for me.

Take care, Tom


Hi Tom,

Yesterday I was in one of my favorite spots near the edge of a clearing that had once been a homestead way back in the woods. The wind was howling and I was getting cold. Just before dark the wind died, and a six-point buck stepped to the edge of the clearing about 150 yards away. He was directly in front of me, and this is a shot I cannot make from my wheelchair. Carefully, I maneuvered and twisted until I could turn my left shoulder towards the deer, and then slowly raised my rifle. The buck was facing me at a quartering angle. At the shot his legs came out from under him, he instantly regained his footing and ran, and collapsed 20 yards into the woods. The shot was perfect, entering the point of the shoulder and traversing the full length of the deer.

No. 27 came through again! The button buck last weekend was made into tender steaks. This deer will fill a substantial portion of my freezer with sausage. Life is good. Thank you for building this super deer gun. This afternoon I'm going to wipe it down and load it for next Saturday! I'm certainly getting a lot of use out of it.

Take care, Tom

Hi Tom,

No. 27 has been especially good to me this year. Three Saturdays in a row I've hunted and I've gotten a deer each time. Yesterday I brought home a nice doe. Our deer here in Virginia are small compared to Pennsylvania deer, but I'm filling the freezer anyway!


From November 2013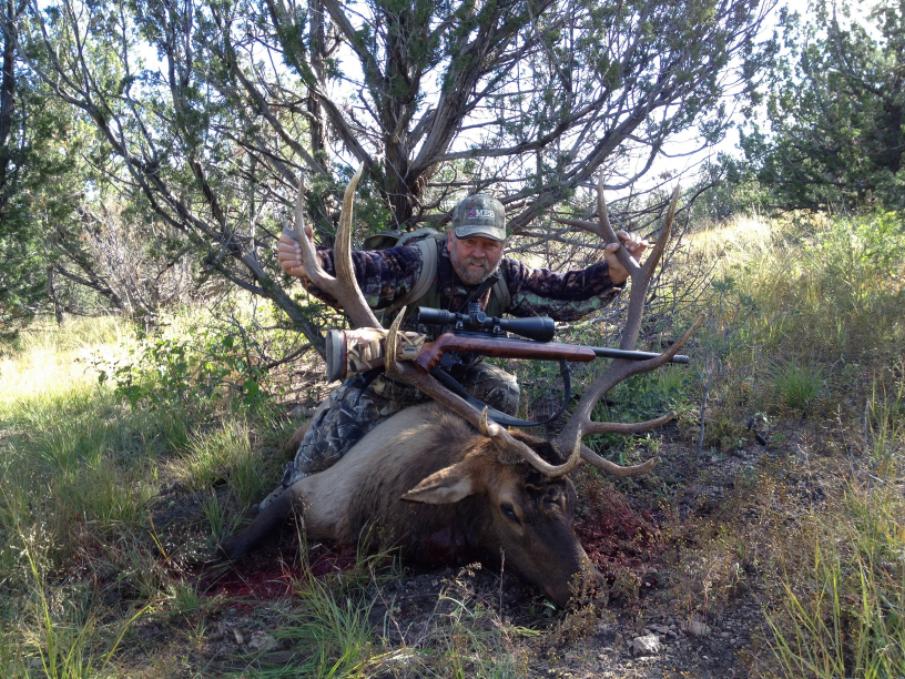 Above is Joe Stradley with a nice Elk shot cleanly with his Swing-Lock .416 rifle from 394 yards. Nice shooting!

From October 2013







Good morning Tom,

I was finally able to shoot my Swinglock yesterday and sight it in. WOW!!! This thing is an incredible, precision made, sub-MOA tack driver. I have decided to change out my scope to my 6.5-18 Leupold as I believe I will have no problem reaching to 500yds. The trigger is awesome,balance is great and it is one mean looking gun. I am a trophy hunter having already let over 100 animals "walk" this year during archery seasion. It is getting near time to put some venison in the freezer and will certainly follow up with you after muzzleloader season.

Thanks again,

Gary ....... Shown above is Gary's rifle.

From November 2012



Check out this video on YouTube:

http://www.youtube.com/watch?v=gFjCjk0t6tM&feature=youtube_gdata_player

From Michael Beam shooting his Swing-Lock Long Range Rifle at 840 yards. Awsome!

From May 2012.






This is Lori Benson with a fine Mule Deer she took down with one clean shot using her Swing-Lock rifle. A great trophy and excellent picture!

Season 2011.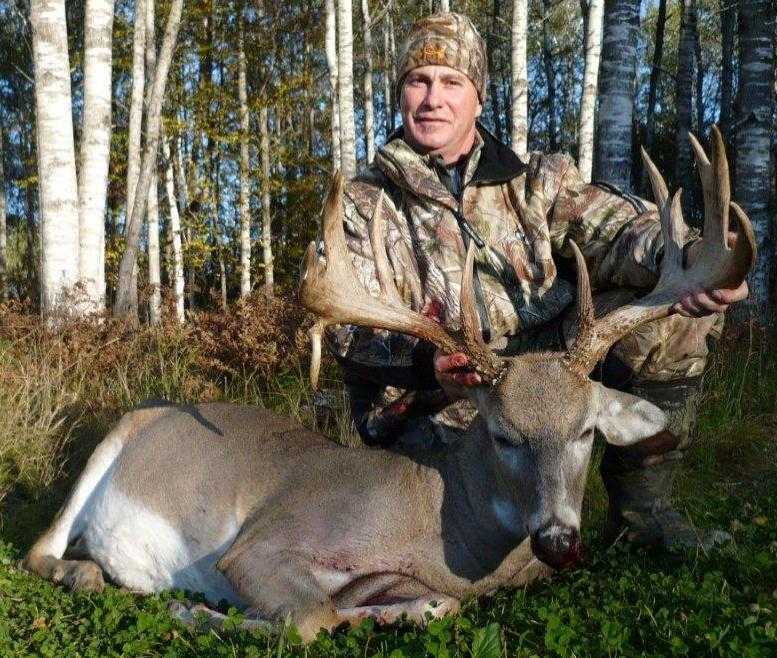 Randy Schultz with a record scoring Whitetail buck.

Randy said the shot was taken from 797 yards, one shot dead as a hammer!

Be assured the shot was not taken out of haste or poor judgement. Randy is a very experienced shooter with extensive long range experience and well practiced understanding for conditions and the equipment he uses. He has done much shooting with his Swing-Lock rifles out to 1000 yards and this one shot kill is a great compliment to his skill and ability. This trophy is also an example of the outstanding power and accuracy of the custom made Swing-Lock rifle used.

Season 2010.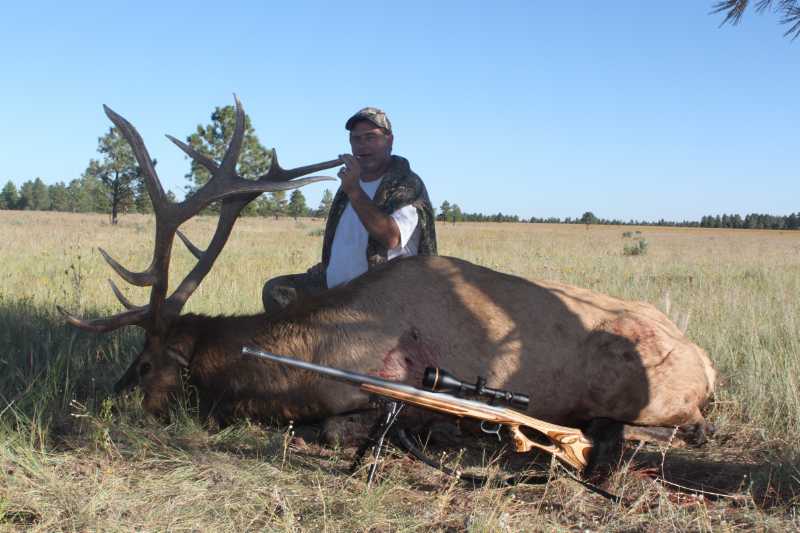 Brett with a nice bull Elk taken down by a single shot from 225 yrds using a Parker sabotless 275 gr Ballistic Extreme bullet.

Season 2010.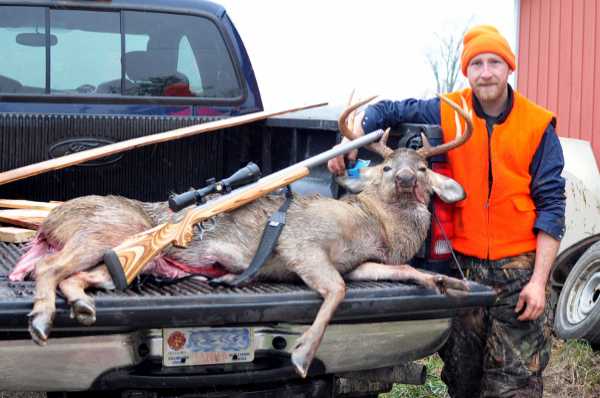 Andy and a nice buck taken with his Swing-Lock custom rifle.

Andy said, he did a back flip and never moved. I have never shot a deer before, that
was dead before it hit the ground!

Bullet use was a full form sized Barnes .458 dia. 300 gr TSX.

Season 2010.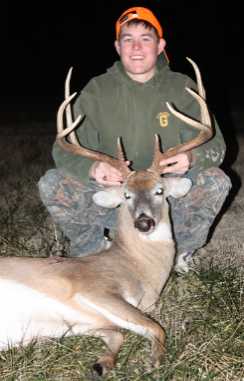 Tom,

The disadvantage of a great muzzleloader is that your son borrows it every
time you hunt. Jackson took these two bucks with my custom Swinglock, which
my friend calls "Sherman", as in tank.

The 8 pointer pictured with the rifle was taken at 125 yards and piled up
about 50 yards after the shot. The other was a 9 point shot at 75 yards and
did not take a step. You really should mention

taxidermy as a cost of operation in your promotional materials. I recently
shot a doe at 206 yards which the 250g Hornaday FTX flipped.

In my 40+ years of hunting I have not enjoyed any gun of any type as much as
my Swinglock. Its accuracy and knock-down power are amazing.

Thanks again for a great rifle.

Jack

Season 2010.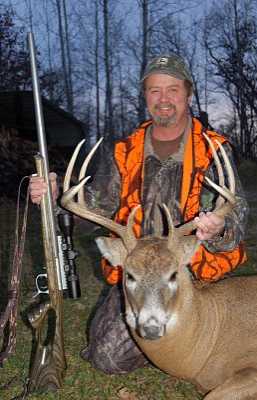 Tom, The deer in the pictures was taken at 120 yards standing broadside. The bullet took out both front shoulders. He never took another step. I heard the bullet hit over the report from the .50 cal. swinglock. My gun is now and will always be called the Sledge Hammer. Carl Lowther

Season 2010.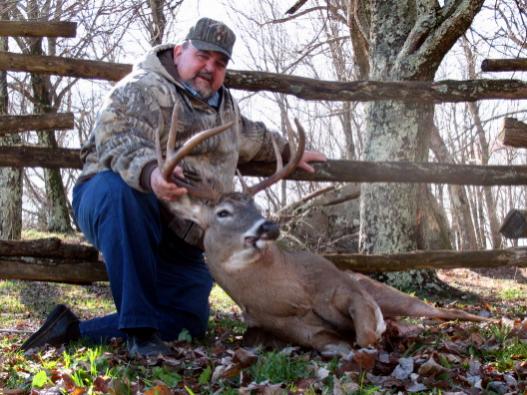 This is Bill Shehane with a real fine, heavy, 8 point buck shot from 278yds. Bill said... as the last 3 did -- he never moved once the bullet hit him.
Bullet used was the Hornady 250 gr SST starting from the muzzle at well over 3000 fps.

Season 2009.




Bill Newmans antelope put down with one shot from 535 yards!
Bullet used was the 275 gr Parker Ballistic Extreme with a muzzle speed of over 3150 fps.

Season 2009.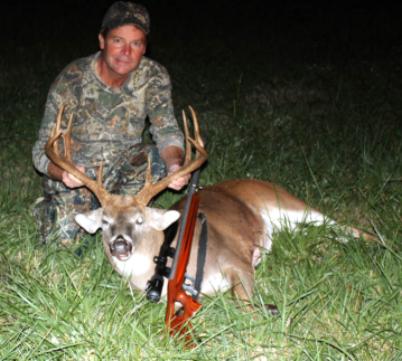 These are two great Virginia Whitetail bucks Jack Morris shot the same seasom with his Swing-Lock.

On left:
10 point heavy-horned buck, 21.25" spread, 250g Hornady FTX 45 cal bullet at over 3200 fps from muzzle,
(Dead Right There- didn't
take a step or budge)

On right:
Swinglock strikes again. 22 1/4" outside spread. 190 yards.

Jack Morris says....

I can't describe how happy I am with the Swinglock. I
haven't even had time to experiment with loads. If it ain't broke,...!!!

Many thanks.

Jack

Season 2009.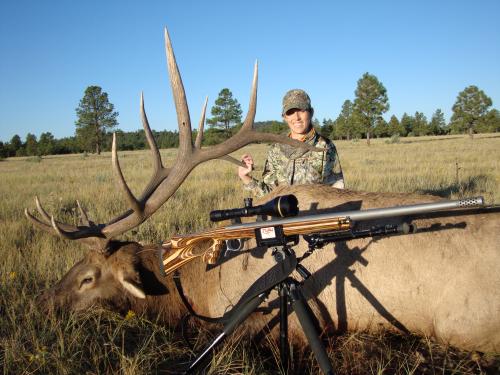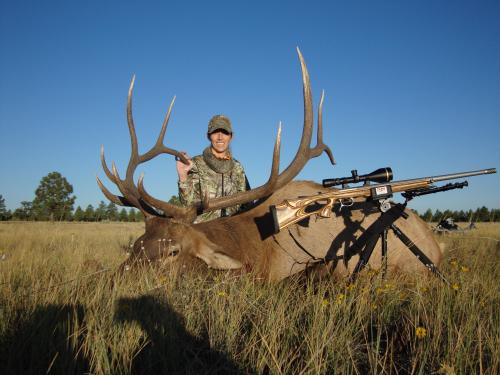 Lori Benson's Arizona Bull Elk shot at 291 yards with her awesome swing lock, thanks Tom Post

Lori dropped this magnificent elk in its tracks with one clean shot. The bullet used was a Parker 275 gr. Ballistic Extreme with a muzzle speed of approximately 2900 fps.





This is Al Thanhauser with a Mule Deer / Whitetail (hybrid) buck he shot with his Swing-Lock rifle.


RANDY'S 2007 MONSTER BUCK!

His story is below.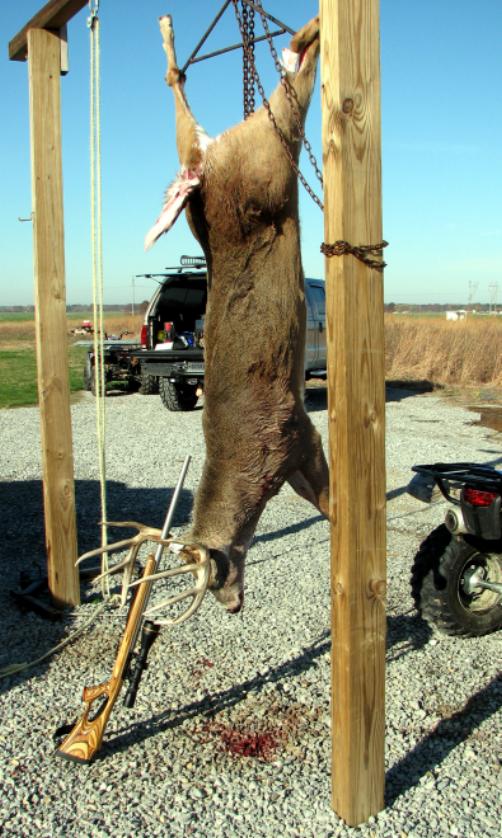 Hi Tom,
I thought you might like some pictures of this year's deer. In addition, its story. I have hunted with one of the owners of River-to-River outfitters for about 10 years. (He knows my swinglock rifles) Two days before gun season he gave me a call. He was telling me about two big bucks he was seeing in the middle of a cane field, with no way to get close. He asked me how far I would be willing to shoot. I told him 500 yards is no big deal. His reply was you will kill a good one before 7 am. Anyway, this deer showed up at 400 yards and got no closer than 326 yards. One shot dropped him in his tracks. They just cannot take a 250 gr. Slug at 2900 fps.
Thanks
Randy


Hi Tom,
The new Leupold VX-III 2.5-8x36 scope arrived yesterday, and today I shot the rifle you built for me. After I sighted in the new scope at 25 & 50 yards I moved over to the 100 yard line and fired one three-shot group. To date this is the only group I have fired with the new gun. Based on only one three-shot group, I know this is a phenomenal rifle!
*The rifle refered to in this and the next testimonial can be seen here.


Hi Tom,
Virginia allows muzzleloading rifles throughout the regular firearms deer season, but many counties do not allow centerfire rifles. For years I have been looking for a muzzleloader that will give centerfire-rifle performance. Finally, I have found it in the Swing-Lock. My new Swing-Lock has the velocity and accuracy needed to place shots precisely at any range I would be willing to shoot with a centerfire rifle. I'm delighted with it.
Thank you.


Hi Tom,
If I was to summarize how I view my new rifle, I would say:
1) Far exeeds my expectations
2) Metal to wood marriage is superb
3) All metal parts display top notch machining practices
4) Stock finish is excellent
5) Overall this rifle is a work of art
6) And the icing on the cake: It shoots MOA groups with magnum loads.
Sincerely, a very pleased customer,
Ernie
Eburn, Illinois


Hey Tom,
Thought you might like to hear about my shooting this evening. First off there was almost no wind which is extremely rare. So at 5:00 when I realized the wind conditions I rushed to a local spot that allows me to shoot to 350yards. The main reason I wanted to shoot was to confirm my drops. So I started out dead on at 200 yards (after cleaning) and then shot at 300 with the group approximately 2.5" high from center with an extreme spread of just under 2.5" which definately impressed me. Then I shot at 400 yards with the group just over 3 inches center to center. The only thing that I'm confused about is the 400 yard group was approximately 6" above center. The BC of the SST could be a little better than published.

Alright the best part, when shooting at the 200 yard target I had a tree line 30 yards behind the target. When shooting at the target I got back on the scope just in time to see a sapling being blown apart and flipped over. Man this thing has some power. The "victim" was approximately 2" in diameter which proved to be no match for the sst.

Tom,
I should have you some pictures by the end of the week. On the last day of ML season, I took an 8 pointer at 286yards at last light. The second day of ML season I past on a larger deer with hopes that I would see the deer that I shot with a bow two weeks earlier. I'll go into more detail when the pictures are developed, but I've got to say that at 286yds that sst is still very destructive.

Hey Tom,
Sorry for the delay, it's been awhile since I last checked my email. The pics are on a disposable camera that hasn't been filled up yet, but I can give some details.

The 8-point isn't exactly what I was after, but after watching several large bodied deer enter the field at last light for the last 3 days, I had to take my chances. Although I could tell these deer were bucks, I just couldn't tell how big they were. Basically I ranged the largest one, dialed the scope, and sent one on the way. The shot was across a canyon, from one wall to the next, and let me tell you the report of the impact was easy to pick up. No wondering if I hit him. The deer immediately fell off the trail that he came in on and rolled into the field, which was nice, just drove up and loaded him into the truck.

I've killed a lot of deer with bow, ML, and rifle, but a 250gr sst fired at 2900fps gives a whole new meaning to terminal perforemance. In this case, the bullet passed through yet did a tremendous job on it's way through.

I had a spotter with me that day, he was doubting my capabilities, I changed that. As long as I have a rangefinder and the wind is manageable, a 300-400 yard shot is not that big of a deal.

I've been attending some local tactical style rifle matches here lately and was wondering if they might let me make a shot or two with my muzzleloader.

Here I go rambling, but at any rate I will have the pics developed and get an email on the way. It's rifle season now and it's hard for me to think about anything but killing another wall hanger.

Well talk to you latter,
Matt Peterman
El Reno, Oklahoma

Matt's 286 yard deer: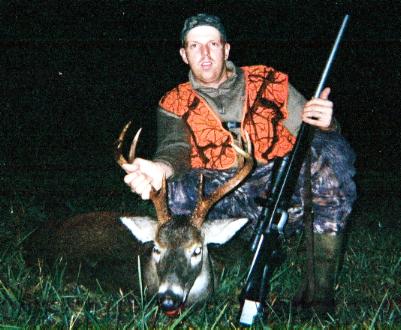 Tom,


I need to tell you about my #23 rifle (XX) gr. IMR 4198 250 bonded SST using ballistic bridge.
@100 yards .48 & .39 of an inch. @250 yards .78 of an inch.and out at 400 yards 2.14 inches
Thanks again
Randy
* Note:
Velocity for the load Randy was using is 2935 fps! Who says great accuracy is not possible at hyper-speed!

Randy shot a doe at a measured (Leica range finder) 390 yrds! The 250 bonded SST bullet passed completely through the deer taking out both shoulders!

Tom, I have had my gun for a couple of weeks now and I have shot over fifty
rounds to date with amazing accuracy. The workmanship and detail of the gun
is superb. I have received many compliments about the looks and design of
the gun. When I went to Cabelas and opened my gun case, did that ever make
heads turn. oohh's and ahahah's were coming from all directions. Many of
the admirer's were asking me where I bought the gun. I have achieved sub one
inch groups at a hundred yards, and inch and half groups at two-hundred
yards. It will shoot through 3/8 inch steel at eighty yards, but yet have
not got through the 1/2 inch steel at forty yards. I did penatration
comparison with a muzzelloader with a hundred and thirty grains of triple
seven and the same bullet and we saw no penatration in the 3/8 steel what so
ever. My Swing-lock muzzelloader has the nickname of The Tank-killer! The
only issue with the gun has been the recoil other wise I'am very happy and
excited to own my own Swing-lock.
Sincerely,
Carl
Dodge Center, Minnesota




Accuracy:
WOW!!!!!!!!!!!!!!!!!!!!!!!!!!
Sincerely,
Carl
Dodge Center, Minnesota


It has arrived! My initial thoughts, in one word, WOW!! This is a VERY well made rifle with great attention to detail. The way this rifle feels, looks, and handles is of custom grade. Being a big fan of custom rifles, this rifle really fits in with my personal preference for the way firearms should be. Everything is perfect, from the fit to the design.
Now all I need is a calm afternoon to put some rounds down range.
I'm looking forward to sending my first report of how she shoots.
Thanks again
Matt Peterman
El Reno, Oklahoma

I spent most of last evening admiring your beautiful workmanship, I have not removed the stock and do not plan to do so until after I fire it a number of times and deem that it needs cleaning... From what I can see, you most certainly have a beautiful product and the craftsmanship is evident everywhere... To be extremely critical, I can only find two areas; #1, the safety operation is going to take some getting used to, because of location and it seems to be a little stiff to operate. It is in good company with the likes of the Garand M-1, they made more than a few of those guns and no one complained about the safety's...
#2, the weight, but since I don't walk much anymore and spend most of my hunting seated comfortably in a stand, the weight poses no problem, and will lessen felt recoil...
I notice the you also put your ser. number on the action so they cannot get mixed up, which is good craftsmanship... The gun has great lines, reasonably good balance, perhaps just a little nose heavy... My Son and I must have well over 200 guns in our combined collection, including quite a number of beautiful German made Brownings with fancy engraving that my father left us... We have a number of Blasers and a nice Merkel, quite a few of Harts custom made rifles is various caliber's and I can tell you that I fully expect that your gun will earn a place near the very top of that list... We need to keep open lines of communication so that you can keep us advised of further developments in your product line and we do need to talk more about stocking spare parts, I do want to have parts on hand... Remember, this is how Bill Ruger got his start, building that little .22 caliber automatic pistol... Best of luck and thanks again for the beautiful job you did... (my Son hasn't seen his yet, I know he will be pleased)... I almost forgot, the camo job came out just fine...
Let me throw some added comments your way... I am very pleased with all aspects of your stock design, I like the palm swell, the thumbhole design, the rollover cheek piece, the great way you have designed the ram rod socket well down into the stock and the general feel or texture - there is no reason to have the gun slip out of ones hands and it has a non-glare finish... The Weaver style scope mounts are stong and very solid, the scopes are mounted low and just nicely clear the barrels, I like that. All in all, you have done a real bang up job with these guns, Thanks again...

Dick Hummer Sr.
Phillipsburg, New Jersey

Many thanks to Mike Lauterborn for the following letter: